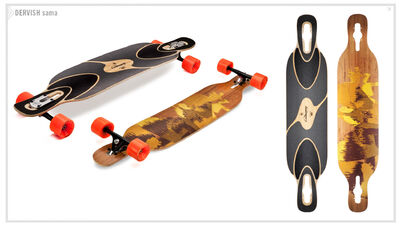 The Dervish Sama is a board made my Loaded Longboards. It is the successor to the Loaded Dervish, featuring upturned kicktails, a more pronounced concave profile, a wider deck, and a different grip tape pattern.
Con

struction

Edit
Epoxy and tri-axle fiberglass sandwich a vert-lam bamboo core, pressed into concave and convex cambers. The camber helps the board feel responsive and lively, but is not a positive feature for sliding.
The Dervish is typically used for and cruising, commuting, and dancing.
Ad blocker interference detected!
Wikia is a free-to-use site that makes money from advertising. We have a modified experience for viewers using ad blockers

Wikia is not accessible if you've made further modifications. Remove the custom ad blocker rule(s) and the page will load as expected.